TbT Pellet Seating Tool £5.95
This handy little tool engages the pellet with the rifleing and seats each pellet at exaclty the same depth for added consistency. Best used in conjunction with the TbT pellet sizers for match grade accuracy.
Pre order for delivery wc 6/11
[wp_cart_button name="TbT Pellet Seating Tool" price="5.95″ shipping="0.001″ ]
Scroll down to purchase Pellet Sizers
Available in 4.48mm, 4.49mm, 4.50mm, 4.51mm, 4.52mm, 4.53mm for .177
5.51mm, 5.52mm and 5.53mm for .22.
5.08mm for .20
.243″ for BSA .25 barrels, 6.35mm for other .25 barrels, 7.62 & 7.63mm for .30 & .303 barrels.
These precision reamed brass sizers help ensure that every pellet you load into your air rifle is exactly the same as the last one, reducing group size and eliminating "Flyers" in the field.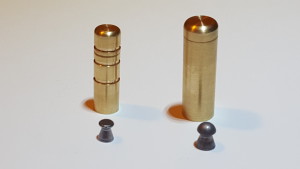 Easy and convenient to use with no other tools needed, these sizers represent excellent value for money at only £18.95.
Please note:  These sizers are intended to reduce the pellet diameter to a preset size.  They cannot increase the pellet size.
NEW! TbT Pellet Sizers £18.95
Precision turned from solid brass, these pellets sizers force the pellet through a reamed taper, ensuring every pellet is exactly the same size, reducing group sizes and eliminating "flyers" in the field. Needless to say, the sizer will only reduce pellet size. Putting 4.51mm pellets through a 4.53mm sizer will have no effect.
Available now for:
.177 sizes;  4.48mm, 4.49mm, 4.50mm, 4.51mm, 4.52mm and 4.53mm
.20 size;  5.08mm
.22 sizes;  5.51mm, 5.52mm and 5.53mm
[wp_cart_button name="4.48mm TbT Pellet Sizer" price="18.95″ shipping="0.001″ ]
4.48mm
[wp_cart_button name="4.49mm TbT Pellet Sizer" price="18.95″ shipping="0.001″ ]
4.49mm
[wp_cart_button name="4.50mm TbT Pellet Sizer" price="18.95″ shipping="0.001″ ]
4.50mm 
[wp_cart_button name="4.51mm TbT Pellet Sizer" price="18.95″ shipping="0.001″ ]
4.51mm
[wp_cart_button name="4.52mm TbT Pellet Sizer" price="18.95″ shipping="0.001″ ]
4.52mm
[wp_cart_button name="4.53mm TbT Pellet Sizer" price="18.95″ shipping="0.001″ ]
4.53mm
[wp_cart_button name="5.08mm TbT Pellet Sizer" price="18.95″ shipping="0.001″ ]
5.08mm for .20 
[wp_cart_button name="5.51mm TbT Pellet Sizer" price="18.95″ shipping="0.001″ ]
5.51mm
[wp_cart_button name="5.52mm TbT Pellet Sizer" price="18.95″ shipping="0.001″ ]
5.52mm
 [wp_cart_button name="5.53mm TbT Pellet Sizer" price="18.95″ shipping="0.001″ ]
5.53mm
[wp_cart_button name=".243″ TbT Pellet Sizer" price="18.95″ shipping="0.001″ ]
.243″ for BSA .25 barrels
[wp_cart_button name="6.35mm TbT Pellet Sizer" price="18.95″ shipping="0.001″ ]
6.35mm 
[wp_cart_button name="7.62mm TbT Pellet Sizer" price="18.95″ shipping="0.001″ ]
7.62mm/.30 
[wp_cart_button name="7.63mm TbT Pellet Sizer" price="18.95″ shipping="0.001″ ]
7.63mm/.303