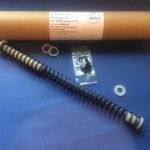 Due to popular demand I am now supplying the TbT Maxi Drop-in Kits with Genuine Weihrauch springs. Until now it was only possible to buy a full spring kit with an aftermarket spring. These are usually harsh and of a lesser quality than the original, but they are cheap and readily available.
Now you can have the best of both worlds, the highest quality spring with custom fitted guides, and all for less than the competition!
How is that possible? Most other kits arrive with the spring cut to be safely under powered, requiring the addition of preload to bring them back. The trouble with "dead" preload is that it increases piston-bounce which leads to higher hold sensitivity. The TbT Maxi Kit springs are supplied full length ready to be cut to size with instructions and video guide available. This will result in better performance from a spring the exact length your rifle needs, along with the labour cost savngs being passed on to you, the customer.
These are not replacing the standard TbT Drop in Kits, they are just an option if your current spring is past its best or too harsh.